Places to visit:
Temples in Noida 
Noida is a new city & most of the residents are settled from outer towns, so everyone has a query about Places of worship. Gautam Budh Nagar district, have few ancient temples. The ancient temples of Dronacharya at Dankaur & Ravana's father temple at Bisarkha still exist today. Other than these don't have any old mandirs, but being a cosmopolitan city & people from all over India settled here you will find new temples of different communities & faiths.
Local Mandirs in Noida & Nearby Areas
To list all is a little difficult task but a list of a few big Temples in Noida & its neighborhood.
Santhan Dharam Mandir
Location: C-Block, Sector-19, Noida
Santhan Dharam Mandir, situated in C-Block Sector-19 is one of the oldest temples in Noida. It's a beautiful temple with a small garden attached to it. Mandir has multiple sections devoted to different gods & a Navgrah temple. Temple committee organizes special programs on the occasion of Ram Navami, Shivratri, Dusshera, Janmashtami & other important Hindu festivals. There is a Homeopathy clinic in the compound & management runs many charitable works
Sai Baba Mandir
Shirdi Sai Mandir, Sec-40
Location: 64-D/2 F Block, Sector 40, Noida
Noida has few temples dedicated to Sai Baba. SHIRDI SAI MANDIR, Sector-40 is the oldest & famous visited by devotees from all over the city. The temple is constructed beautifully with white marble and is a replica of Sai Baba Mandir in Shirdi. Evening Aarti, Bhajans & Sai Sandhya are the highlights of this temple. Sai Baba Mandir Samiti administers this temple and provides mid-day meals, run a primary school for poor children & a charitable dispensary which provides medical aid to patients every day.
Sai Karuna Dham, Sec-61
Location: E-4, Sector 61, Noida
Sai Karuna Dham is a beautiful Sai temple located in Sector-61. The importance of this temple is that it is the 108th temple in the series of temples constructed with the blessings, guidance, and inspiration Guruji who is the Chief Patron of Sai Karuna Dham. Different social, religious, educational, and other promotional activities are run in the temple premises.
ISKCON Temple, Sector-33
Location: Opposite NTPC Office, Maharaja Agrasen Marg, Block A, Sector 33, Noida.
The famous ISKCON temple or the international society for Krishna consciousness, dedicated to Lord Krishna is located in Sector-33, Noida. The temple houses deities Radha-Govinda, Gaura-Nitai (Caitanya and Nityananda), and Jagannatha, Baladeva, and Subhadra. Idols are beautifully crafted, and the temple is a grand 7 story structure that reaches up to a height of 160 feet. It also has Govinda's restaurant which serves authentic vegetarian food. The temple performs different rituals, prayers, and kirtans daily. Prasadam is served to one and all present in the temple every Sunday. On festivals like Sri Krishna Janmashtami, Radha Ashtami, Gaur Purnima, Holi, and Ekadashi the temple organizes the special program.
Ayyappa Temple, Sector-62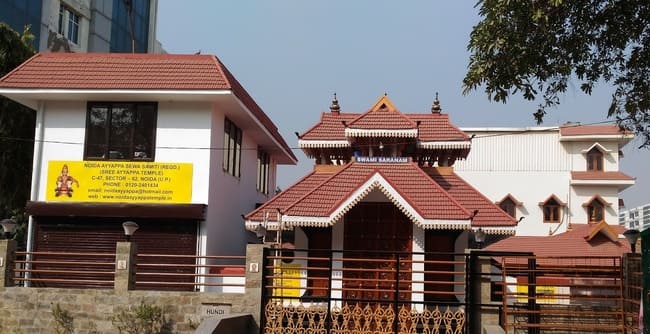 The worship of Swami Ayyappa spread from Kerala to the rest of the country. Ayyapps temple construction was fully completed in the year 2002 facilitated the devotees of Ayyappa in Noida to meet and conduct pujas, sing bhajans and kirtans, which are all an intrinsic part of worshipping this God. The temple follows the Chera style of architecture with stones brought from the sacred Bharatapuzha river in Kerala.
In words of Ayyappa temple trust " An enchanting shrine amid Noida city, to usher the beneficial spirit – that was the temple of Noida Ayyappa came into existence in July 2002. Lord Sastha, the presiding deity, as the divine protector of the whole Noida, showered benediction on a cultured rave. He rode the boundaries of the Noida on His white charger; the pure, microcosmic soul. Full of devotion, the people reveled in the ineffable tenderness of Sastha. A peaceful refuge for the troubled soul that was Noida Ayyappa.". The temple is known as the abode of wisdom and the deity, a symbol of protective love
Location: C-47,Sector 62, Noida
Kali Bari Mandir, Sector-26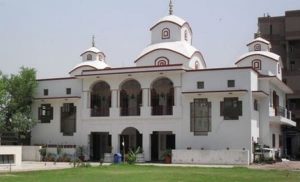 Location: Sector 26, Near Apollo Hospital
Bengal is famous for its worship of Goddess Durga. Kali Bari Mandir is an important spiritual place for Bengali people living in Noida and marks their devotion to Goddess. The Kali Bari of Noida was constructed by the Bengali Association of Noida and managed by them too. The temple houses the idol of Goddess Kali as the presiding deity. Festivals such as Durga pooja or Navaratri, Maha Kali Puja, and more are celebrated with zest within the temple. Durga Puja Celebrations is the highlight of mandir & has won many awards for Best Durga Idol in Noida. It's open to anyone who appreciates the traditional values and Human philosophy and open to immersing themselves in Bengali ethnicity and culture.
Arya Samaj Mandir, Sector-33
Location: Sector 33, Near Rockwood School
Arya Samaj Mandir is located in Sector-33 Noida. Arya Samaj Marriages is getting popular nowadays among the middle class, lower class because of its simple procedure, least possible expenses, and the timings. The temple follows Vedic principals strictly. Arya Samaj Mandir of Noida is the temple where weddings are solemnized be it inter-caste or inter-religion marriage. It is considered a holy spot for wedding rituals. 
Akshardham Mandir, New Delhi
Location: Noida Mor, Pandav Nagar, New Delhi.
Akshardham' means the divine abode of God & hailed as an eternal place of devotion, purity, and peace. Swaminarayan Akshardham at New Delhi was inaugurated on 6th November 2005. The mandir is a humble tribute to Bhagwan Swaminarayan (1781- 1830), the avatars, devas, and great sages of Hinduism.  Temple is one of the largest temples in India which rises 43 m high, spans 316 foot wide, and extends to 109 m tall. At its center is the pink sandstone and marble-based mandir with idols of Lord Swaminarayan, Radha-Krishna, Sita-Ram, Lakshmi-Narayan, and Parvati-Shiv.
The complex has Open gardens, water bodies, and a step-well-styled courtyard. It has over two hundred murtis, representing many of the spiritual stalwarts over many millennia. The carvings are immensely intricate and the atmosphere welcoming to all. It is known for its famous exhibitions and musical fountains. Exhibitions on Hinduism, including Bhagwan Swaminarayan's life and teachings such as prayer, compassion, and non-violence.
Lotus Temple – Kalkaji, New Delhi
Location:  Lotus Temple Rd, Bahapur, Shambhu Dayal Bagh, Kalkaji, New Delhi
Lotus Temple is situated East of Nehru Place, New Delhi. Temple is built in the shape of a lotus flower and is the last of seven Major Bahai's temples built around the world. Completed in 1986, it is set among the lush green landscaped gardens. The temple is made up of pure white marble. Lotus is chosen as the shape of the temple because of the symbol common to Hinduism, Buddhism, Jainism, and Islam. Around the blooming petals, there are nine pools of water, which light up in natural light. It looks spectacular at dusk when it is floodlit. Temple is open to people of all religions as it's a Baha'i House of Worship and everyone is free to pray or meditate.